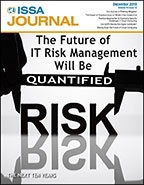 ISSA Journal Dicembre 2018
la rivista mensile riservata ai Soci AIPSI
Gli articoli del numero di Dicembre 2018 includono:
The Future of IT Risk Management Will Be Quantified, by Jack Freund – ISSA Senior Member, Charlotte Metro Chapter. This article discusses the evolution of IT risk measurement from ordinal scale, verbal risk labels to more rigorous,

actuarial-inspired cyber-risk quantification methods for ascribing financial losses to IT security incidents.

Our Journey in Phishing Mitigation, by Jennifer Kinney and Aurobindo Sundaram. This article discusses the implementation of a comprehensive phishing mitigation program. Readers will understand the types of overlapping controls they should implement, ones they should not, how to change user behavior, and how to measure and demonstrate the success of the program.
The Impact of Cryptocurrency on ModernDay Cybercrime, by Michael Doran – ISSA member, St. Louis Chapter. This article discusses advantages and disadvantages of Bitcoin and other cryptocurrencies, methods modern cybercriminals

are using to exploit cryptocurrencies and the effects on cybersecurity in business.

Practical Approaches to Overcome Security Challenges in Cloud Computing, by Seetharaman Jeganathan. In this article the author focuses on various security challenges in adopting cloud computing models and how to overcome them using practical approaches.
Did GDPR Revoke the Digital Certificate? by Jeff Stapleton – ISSA member, St. Louis Chapter and Stephen Wu.
The European Union's General Data Protection Regulation (GDPR) became effective this year. Where it is applicable law, and for companies that must comply with it, did GDPR just make traditional public and private digital certificates and certification services unlawful? This article reexamines certificates in light of GDPR.
Staring Down the Future of Cloud Computing, by Tim O'Neal. Cloud computing continues to pick up steam with new
services inundating the IT community daily. In 2019, the industry will see the rise of several trends—all of
which will introduce new security challenges.
Le rubriche della Rivista
From the President
Sabett's Brief: Another Moonshot in the Next 10 Years
Herding Cats Today only, 25% off Cybersecurity!
Cryptic Curmudgeon Fighting the CISSP Exam
Security in the News
Open Forum; The Key to Security Improvement Is Not What You Think
Career Center
Crypto Corner: The Rosenbridge Backdoor